COVID-19 Resources
How You Can Help During COVID-19
Like the rest of the country, we are focused on ensuring our healthcare system is well equipped and resourced to mitigate COVID-19. At present, our fundraising efforts are directed towards our "Greatest Needs Fund," which allows us to quickly and flexibly allocate funding towards COVID-19 relief efforts. Your support now, more than ever, is how we care for our community.
Key Things to Know About COVID-19
The novel coronavirus, or COVID-19, is a respiratory virus that can cause mild to severe symptoms and is easily transmittable person-to-person. Although symptoms can differ between individuals, common symptoms include fever, cough, and difficulty breathing.
Individuals with pre-existing conditions such as asthma, diabetes, heart disease or those who are immunocompromised are more likely to contract the virus and experience severe symptoms.
To keep yourself and others safe from this virus, practice social distancing, wash your hands regularly, self-isolate if you are sick, and reduce your time outside. These are small, but important steps you can take to prevent the spread.
To learn more about COVID-19 and what our healthcare system is doing to mitigate this pandemic, visit www.svmh.com. To get weekly COVID-19 related updates from our community, sign up for the SVMHS e-newsletters.
A conversation with SVMHS leadership
To keep our community informed, our CPO, Jeff Wardwell, spoke to SVMHS CEO Pete Delgado, and ER Director and Foundation Chair Carla Spencer about the impact your generous donations have had on our healthcare system and steps our healthcare system is taking to continue the mitigation of COVID-19.
Impact
Hospital Foundation Delivers 10,000 Masks to Most Vulnerable Populations
There is always more each of us can do to care for our community. Recently the Salinas Valley Memorial Hospital Foundation in collaboration with the Blue Zones Project Monterey County, identified non-profit organizations with immediate needs for ear-loop masks. Leveraging our relationship with the Salinas Valley Memorial Healthcare System, we were able to acquire 10,000 ear-loop masks to distribute to the following organizations:
Dorothy's Place
Salvation Army
Meals on Wheels
Alliance on Aging
YMCA
ITN of Monterey County
Monterey-Salinas Transit
Boys & Girls Club of Monterey County
Sun Street Centers
Community Homeless Solutions
Door to Hope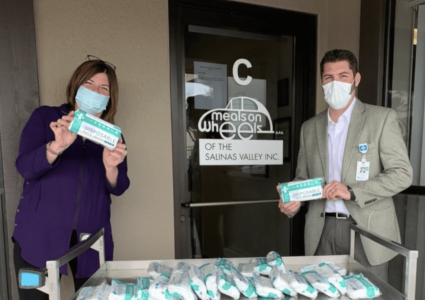 The targeted give-away of 10,000 masks is the first of many direct impact projects the Foundation is spearheading to provide relief to those who need it most to support public safety during the crisis. Read the full press release here.
To help us continue projects like this and assist those on the frontlines, please consider making a donation to our Greatest Needs Fund.