Vegetable Curry With Lemon Herb Farro
Serves 6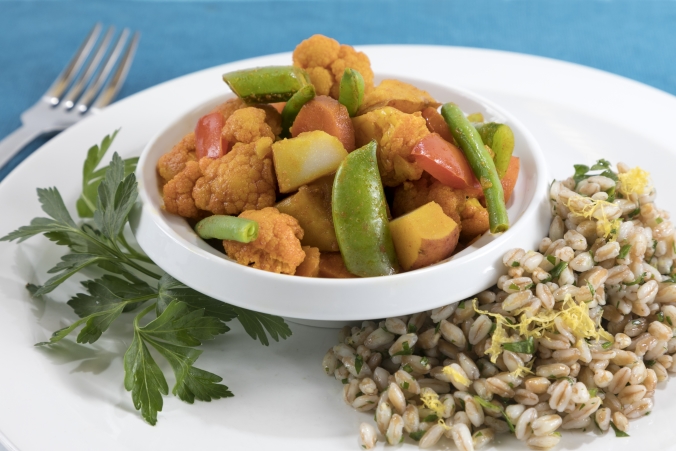 Recipe
Vegetable Curry
1 1/2 tsp. minced garlic
1/4 tsp. ground cumin
1/2 cup curry powder
1/8 tsp. cayenne powder
1/2 tsp. ground black pepper
1 Tbsp. olive oil
1/2 cup carrot, medium dice
1 1/2 cup red potato, medium dice
1/2 cup green bell pepper, julienne
1 cup yellow onion, sliced thin (1/4 in.)
2 cups Cauliflower, 1inch dice
1 cup tomato, small dice
1 cup garbanzo beans
1/2 cup green peas
2 Tbsp. golden raisins
3/4 cup vegetable broth
Heat oil in a large skillet. Over medium heat, add cumin, garlic, curry and cayenne powder. Stir in ½ of the broth and cook for 2 minutes. Add in the carrots, potatoes, green peppers, onions and cauliflower. Cover and simmer for 5-7 minutes or until vegetables are just tender. Add in the tomato, garbanzo beans, raisins and the remaining broth. Cover and cook for another 10 minutes. Taste and adjust seasoning. Keep warm for service.
Farro
2 cups farro
Zest of 1 lemon
1 Tbsp. parsley, chopped
Cook farro according to package. Once the grain is cooked, fold in the lemon zest and chopped parsley. Serve warm with the curry.
Nutrition Facts
348 Calories; Fat 6.5g; Sat Fat 0.8g; Sodium 130mg; Total Carbs 64g; Fiber 17g; Protein 16g