Turkey & Mushroom Meatloaf
Serves 6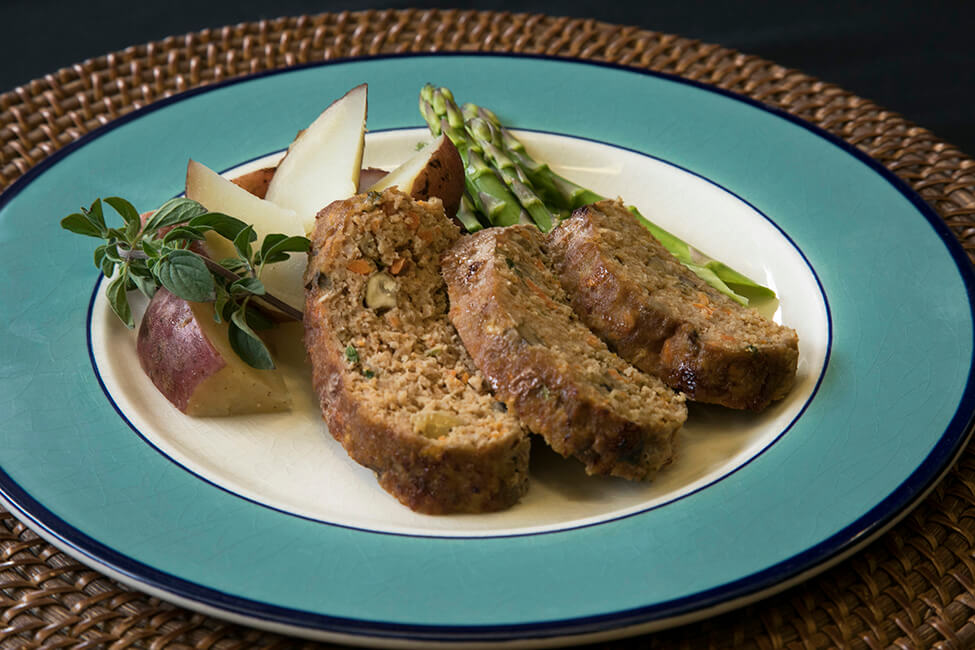 Recipe
2 lbs. ground raw turkey breast
1 lb. cremini or button mushroom
1 tbsp. fresh thyme, minced
1 tbsp. fresh parsley, minced
2 cloves garlic, minced
4 oz. yellow onion
3 oz. peeled carrot
2-3 tbsp. Dijon mustard
1 egg and 1 egg white
½ cup panko bread crumbs
1 tbsp. ground black pepper
Pre-heat oven to 350° and position rack in the center of the oven.
In a food processor chop the mushrooms into small, pea-sized pieces and set aside. Next, in the food processor, combine the garlic, yellow onion and carrot and pulse until finely minced. Set aside.
In a large mixing bowl combine the turkey, chopped mushrooms, thyme and parsley. Using your hands mix all the ingredients. Add the minced onion mix and continue mixing. Add the eggs, mustard and pepper. Mix until all the ingredients are well combined and look evenly distributed. If the mixture looks too moist, add the panko breadcrumbs and mix.
Take your turkey mixture and place it into a 9 inch loaf pan; spread evenly and smooth out the top. Bake at 350° until the internal temperature is 165°, about 45 minutes to 1 hour. Remove from the oven and let it rest in a warm spot for 15 minutes. Slice and serve with your favorite seasonal vegetables.
Enjoy and remember to always have fun in the kitchen.
Chef Jason
Nutrition Facts
Per serving: 250 calories, Total fat: 4g, Saturated fat: 1.1g, Monounsaturated fat: 1g, Sodium: 372mg, Carbohydrates: 13g, Fiber: 2.2g, Protein: 14g