Spaghetti Squash Pasta Pomodoro
Serves 2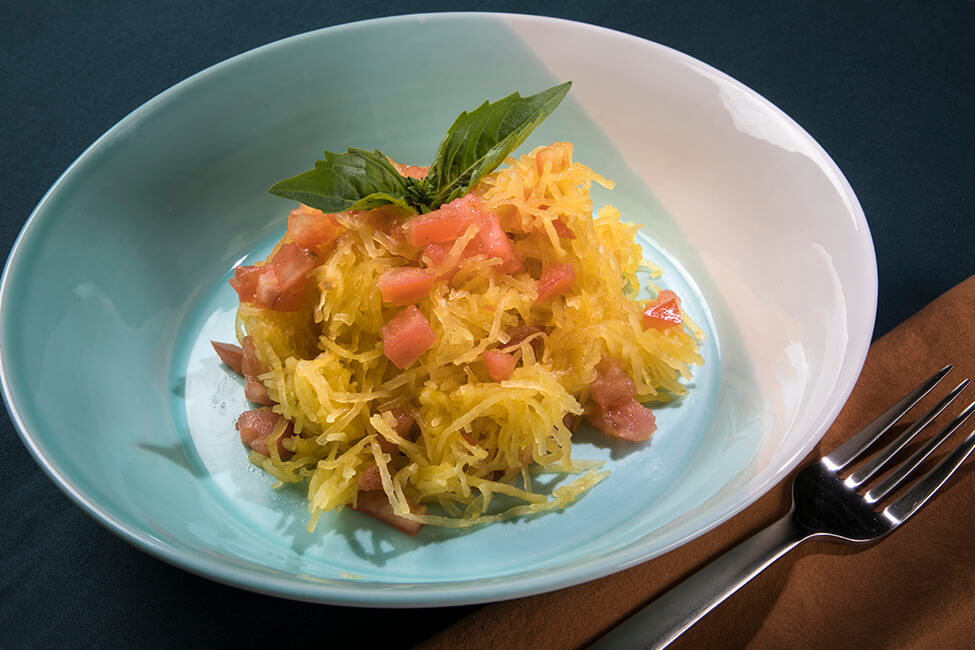 Recipe
1 spaghetti squash
2 Roma tomatoes, diced
1 Tbsp. fresh basil, chopped
1 clove garlic, minced
2 Tbsp. olive oil
Pinch black pepper
1.5 oz. shredded Parmesan cheese
Cut the squash in half, de-seed and roast or steam until tender. To roast, place cut side down on a foil-lined baking sheet and bake in a 350°F oven for 35 minutes, or until fork tender. To steam, place both cleaned halves into a steamer or pressure cooker and cook, following manufacturer's directions.
Cool squash to room temperature. Using a fork remove and shred the flesh of the squash into a bowl or plate and set aside.
In 10-inch sauté pan, heat oil over medium heat, add garlic and cook until lightly brown. Add 3/4 of the diced tomatoes and sauté for 1 minute. Add squash and 3 Tbsp. water. Cook for 2 minutes to reheat the squash, mixing gently. Add chopped basil and black pepper. Toss once or twice and serve. Sprinkle cheese over the top and garnish with remaining diced tomatoes.
To your health,
Chef Jason
Nutrition Facts
Calories: 229, Protein: 13g, Carbohydrates: 24g, Fiber: 3g, Total Fat: 9g, Saturated Fat: 2g, Sodium: 355mg