PAN ROASTED WILD KING SALMON WITH A CITRUS COMPOTE
Serves 4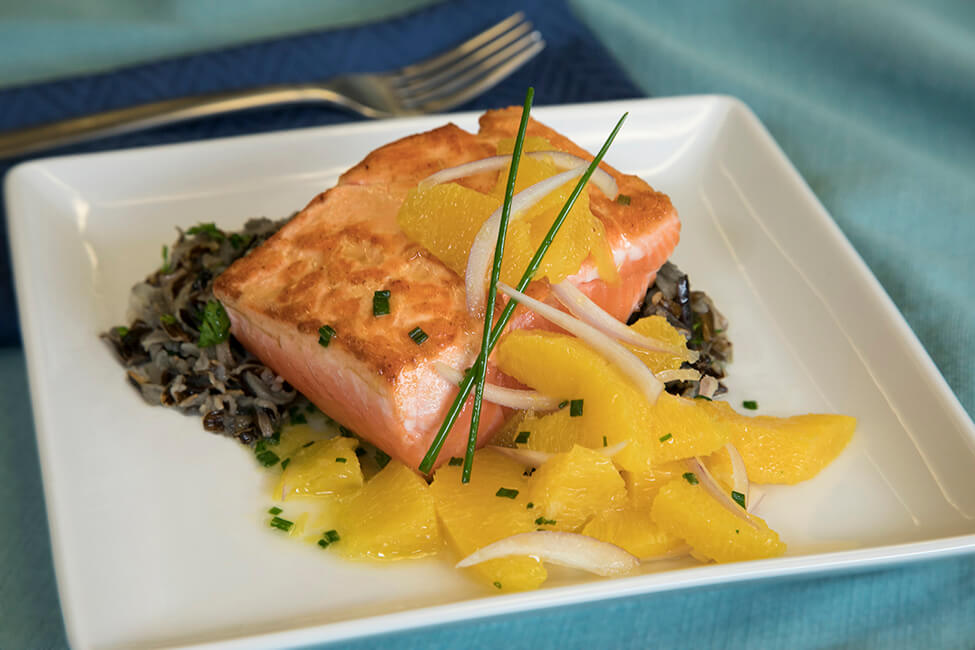 Recipe
1lb. boneless, skinless King salmon filet
(cut into 4 equal portions)
2 large navel oranges
½ tbsp. minced shallot
½ tbsp. minced green onion
3-4 tbsp. olive oil
Kosher salt
Black pepper
Citrus Compote
To prepare, remove the peel off the oranges and discard. In a small bowl remove and separate the connective membrane from the fruit. After the segments have been separated into the bowl, squeeze the juice from the connective membranes over the fruit segments; set aside. Add ½ tbsp. each of the shallots and green onions, 2 tbsp. olive oil and a pinch of black pepper to the citrus segments and gently mix together. Be careful to not break up the citrus pieces.
Salmon filets
Season the salmon filets with a pinch of kosher salt and a dash of black pepper. Heat a large nonstick skillet over medium heat. Add 1 tbsp. olive oil to the pan and sear the salmon for 90 seconds. Turn the fish over and reduce the heat to low, cook for an additional 2 minutes. Remove from the heat and set aside.
To serve, place citrus compote next to salmon filet on your plate. Drizzle a small amount of the remaining citrus juice over each piece of fish. Serve with ½ cup wild rice.
Remember to have fun. Eat well and be happy.
Chef Jason
Nutrition Facts
Per serving: 355 calories, Total fat: 13g, Saturated fat: 1.7g, Monounsaturated fat: 7.5g, Sodium: 100mg, Carbohydrates: 43g, Fiber: 5g, Protein: 22g