Roasted Garden Vegetable Sandwich
Serves 4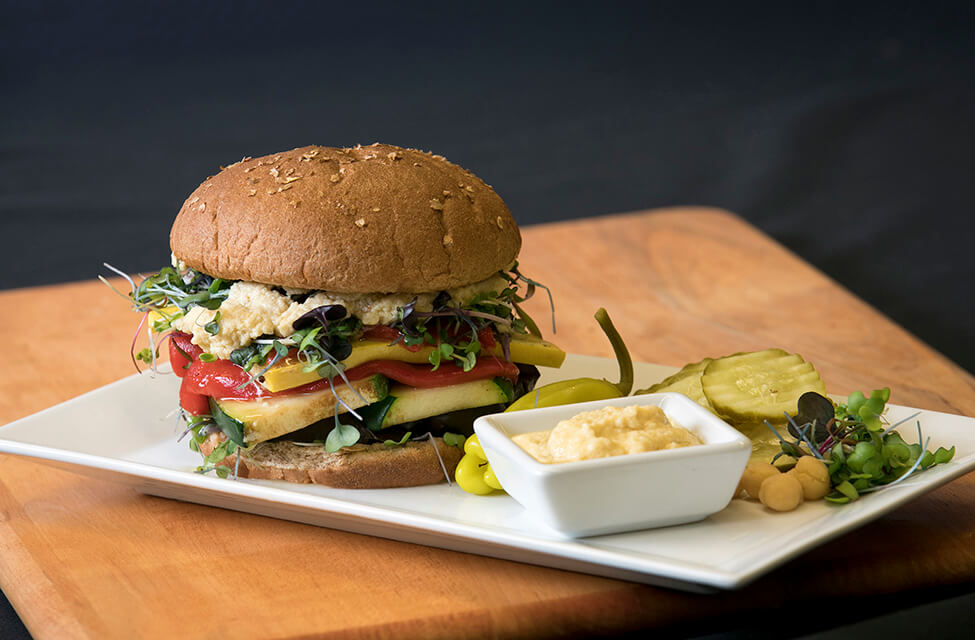 Recipe
1 medium zucchini
1 medium yellow squash
1 small Japanese eggplant
1 medium red bell pepper, roasted and peeled
4 "softball size" Portobello mushrooms
4 wheat Kaiser rolls
Micro sprouts or greens
3 tbsp. olive oil
Hummus:
1 can cooked garbanzo beans
1 lemon, zested and juiced
1 garlic clove
1 cup olive oil
2 tbsp. warm water
Pinch Kosher salt
For hummus, place drained garbanzo beans, lemon zest, lemon juice and a garlic clove into a food processor and begin to chop. With the processor running slowly, add olive oil, followed by 2 tbsp. of warm water until the texture is smooth. Stop the processor and taste; season if needed. Remove contents and cover.
For vegetables, slice zucchini, yellow squash and eggplant in to 1/8 inch thick slices. Lay slices on a baking sheet. For the Portobello mushrooms, remove the stem and gills and place on the same baking sheet. Drizzle with 3 tbsp. olive oil. Bake at 375° for 7-10 minutes or until tender and slightly golden on the edges. Remove and let cool.
To assemble the sandwich, spread a thin amount of hummus on the bottom half of the bun, then layer on browned vegetables along with the roasted red pepper and fresh sprouts. Slice sandwich in half and eat with some crunchy pickles.
Enjoy,
Chef Jason
Nutrition Facts
Per serving: 422 calories, Total fat: 21g, Saturated fat: 3g, Monounsaturated fat: 12.7g, Sodium: 400mg, Carbohydrates: 50g, Fiber: 8g, Protein: 14g