Grilled Swordfish with Ratatouille Vegetables
Serves 4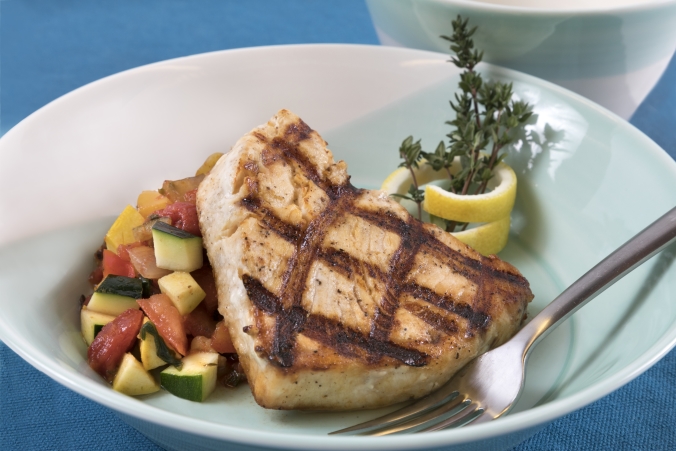 Recipe
Swordfish
4 – 4oz swordfish steaks
Fresh ground black pepper
Pinch kosher salt
1 tsp. olive oil
Brush the fish with olive oil and sprinkle with salt and fresh cracked pepper. Grilling is the preferred cooking method for the swordfish, but it can be baked as well. Grill for about 3 minutes on each side, taking into consideration the thickness of the fish steak. The thicker it is, the longer it will take on each side. To bake, cook at 375°F for about 15 minutes. When cooked completely fish will be firm but still moist.
Ratatouille Vegetables
2 Roma tomatoes, diced to ½ inch
1 crook neck squash, diced ½ inch
1 green zucchini, diced ½ inch
½ red onion, diced ½ inch
1 yellow bell pepper, diced ½ inch
1 red bell pepper, diced ½ inch
2 cloves garlic, minced
4 fresh basil leaves, chopped
1 cup cooked, diced tomatoes in puree (canned works best)
3 tsp. olive oil
Heat oil in a large sauté pan over medium heat. Add onions and cook for 4 minutes or until tender. Add red and yellow bell peppers and cook for about 2 minutes, then add garlic and stir. Next, add squash, zucchini and fresh tomatoes. Cook vegetables for about 5 minutes, then add the cooked tomatoes, stirring until well combined. Add basil. Taste vegetables and season as desired with kosher salt and fresh pepper. Cook for 5-10 minutes, checking tenderness of the squash. When done to your liking, remove from the heat and serve warm.
Nutrition Facts
250 calories; Fat 10g; Sat Fat 2.1g; Sodium 120mg; Carb 14g; Fiber 3g; Protein 19g