Grilled Chicken Tacos with Cauliflower Tortillas
Serves 4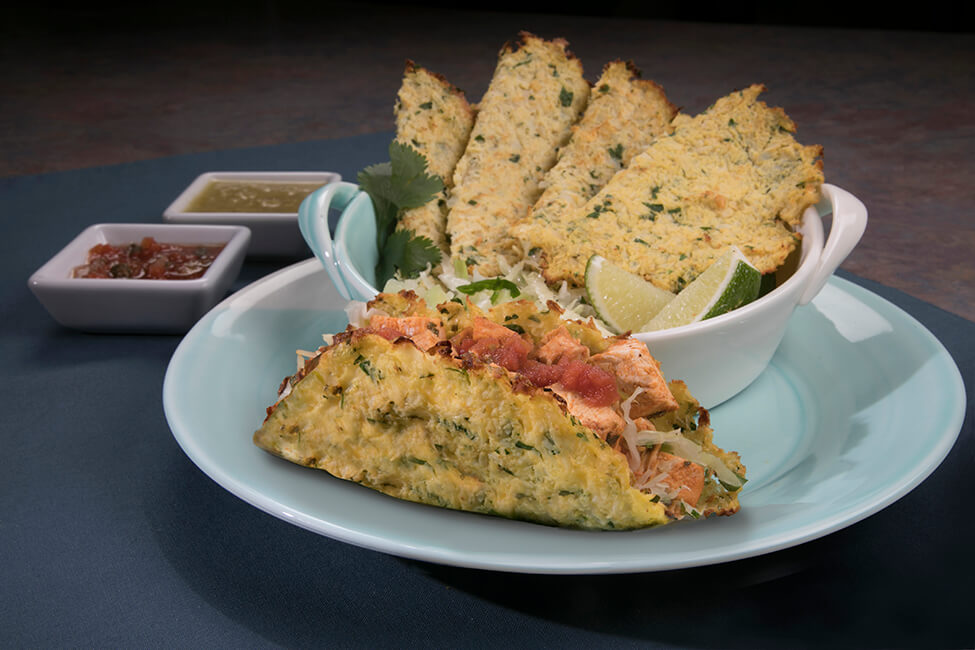 Recipe
Grilled Chicken
9 oz. boneless/skinless chicken breast
3 tsp. Mexi-mix organic salt-free spice blend
(Available at Star Market)
3 oz. orange juice
Mix spices together with the orange juice and marinate the chicken breast for 2 hours. Grill on a charcoal or gas BBQ until cooked through. Remove the chicken from the grill and rest for 10 minutes. Chop and serve on the cauliflower tortillas with cabbage slaw.
Cabbage Slaw
1 package shredded cabbage
1 Tbsp. cilantro, chopped
Juice of 2 limes
1 tsp. olive oil
In a medium-sized bowl combine the cabbage with the lime juice and olive oil. Mix well. Add cilantro and toss gently. Chill for 30 minutes and serve as a taco topper or side dish.
Cauliflower Tortilla
Makes 6 Tortillas
3/4 head cauliflower
2 large eggs
1/4 cup fresh cilantro, chopped
Juice from 1/2 lime (Include zest if you want more of a lime flavor.)
Salt and pepper, to taste
Preheat the oven to 375°F and line a baking sheet with parchment paper. Trim the cauliflower, cut it into small, uniform pieces and pulse in a food processor in batches until you get a couscous-like consistency. The finely riced cauliflower should make about 2 cups packed. Place the cauliflower in a microwave-safe bowl and microwave for 2 minutes; stir and microwave again for another 2 minutes. Place the cauliflower in fine cheesecloth or thin dishtowel and squeeze out as much liquid as possible, being careful not to burn yourself. (Wearing dishwashing gloves is suggested as cauliflower is very hot.) In a medium bowl, whisk the eggs. Add in cauliflower, cilantro, lime, salt and pepper. Mix until well combined. Use your hands to shape 6 small "tortillas" on the parchment paper. Bake for 10 minutes; carefully flip each tortilla and return to the oven for an additional 5 to 7 minutes or until completely set. Place tortillas on a wire rack to cool slightly. Heat a medium-sized skillet using medium heat. Place a baked tortilla in the pan, pressing down slightly, and brown for 1 to 2 minutes on each side. Repeat with remaining tortillas.
Chef Jason
Nutrition Facts
Calories: 170, Protein: 7g, Carbohydrates: 16g, Fiber: 5g, Total Fat: 5g, Saturated Fat: 1g, Sodium: 135mg