Egg White Omelet with Mushrooms, Spinach & Fontina Cheese
Serves 2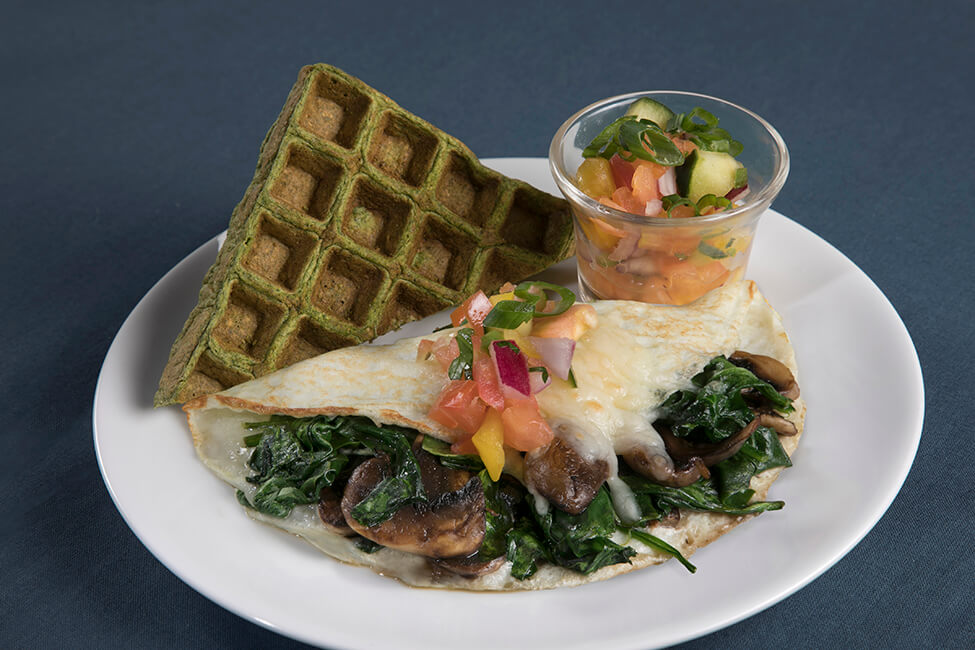 Recipe
6 egg whites
4 cremini mushrooms, sliced
6 oz. bag fresh cleaned spinach
2 oz. Fontina cheese, shredded
1 banana & yam waffle (cut in half)
(Available at Star Market)
Salsa (Garden Salsa recipe to follow)
In a 7-inch non-stick fry pan, sauté the mushrooms until tender; add spinach and cook until wilted (30 seconds). Remove from pan and reserve. Reheat the sauté pan and spray with a non-stick oil spray. Pour in the egg whites and begin to cook. Flip once and add the mushroom and spinach filling. Cook for 30 seconds. Fold and sprinkle with the Fontina cheese. Serve. Salsa is a great addition to this omelet.
Garden Salsa
1 cup tomato (¼ inch pieces, diced)
½ cup cucumber (¼ inch pieces, diced)
2 Tbsp. cilantro, chopped
Juice of 3 limes
½ cup red onion (¼ inch pieces, diced)
½ cup yellow bell pepper (¼ inch pieces, diced)
1 Jalapeño pepper, minced
1 tsp. garlic, minced
¼ cup red wine vinegar
Mix all the ingredients together in a medium-sized bowl; cover and chill in the refrigerator for 1 hour. Lasts up to 3 days.
For texture and a little crunch, we suggest 1/2 of a banana and yam waffle, toasted. (Waffles can be purchased at Star Market in the freezer section. They are called the Green Waffle.)
Enjoy!
Chef Jason
Nutrition Facts (without waffle):
Calories: 147, Protein: 20g, Carbohydrates: 7g, Fiber: 3g, Total Fat: 5g, Saturated Fat: 3g, Sodium: 392mg