Artichoke Relish
Makes approximately 1 pound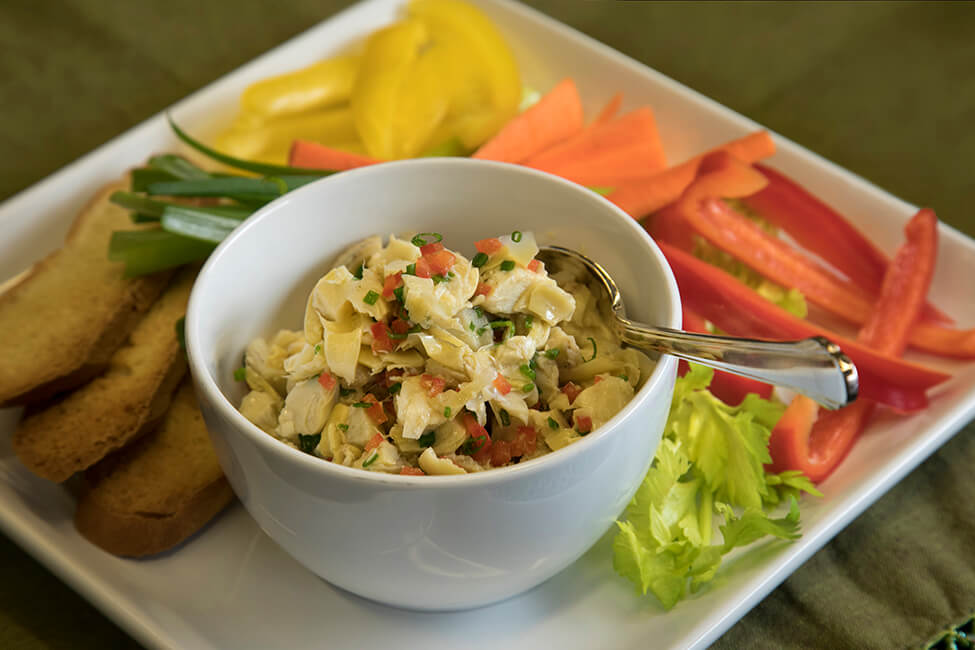 Recipe
¾ lb. artichoke hearts
1 lemon, zested and juiced
1 bunch chives
¼ tsp. ground cumin
1 large roasted red bell pepper,
skinned, seeds removed, diced small
1 cup high quality extra virgin olive oil
Pinch ground white pepper
Dice the artichoke hearts finely and place into a mixing bowl; mix in lemon zest and lemon juice. Add cumin and white pepper along with about ½ of the olive oil. Mix well. Stir in diced red peppers along with the remaining olive oil. Transfer to a smaller bowl, cover and refrigerate until ready to use. It can be left at room temperature if you are planning to use the same day.
Optional: If you like, add parmesan cheese, green olives, capers, tuna fish, diced tomatoes, roasted garlic cloves or sautéed mushrooms.
Relish can be used as a dip for vegetables, on your favorite fish, as a topping for an omelet, or even as a stuffing for a chicken breast. Relish is more delicious at room temperature.
Enjoy and live well!
Chef Jason
Nutrition Facts
Per serving: 130 calories, Total fat: 14g, Saturated fat: 2g, Monounsaturated fat: 10g, Sodium: 55mg, Carbohydrates: 3g, Fiber: 1g, Protein: 1g