SVMHS Pays Tribute to Veterans
SALINAS, CA, November 9, 2018- Salinas Valley Memorial Healthcare System (SVMHS) is named in memory of military men and women who died serving our country and continues that tradition of recognition and respect with a special flag display to mark Veteran's Day. Hundreds of flags have been placed down East Romie Lane on either side of the hospital in honor of our veterans.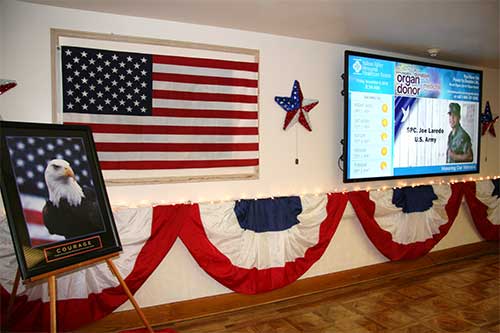 "On this Veteran's Day, we honor the men and women who serve, protect and defend our nation," says Pete Delgado, President/CEO of Salinas Valley Memorial Healthcare System. "When Veterans in our community see our flag display, we want them to know just how grateful we are for their service and sacrifice".
Members of the SVMHS nutritional services team are also honoring veterans with a flag and photo display in the cafeteria. A large monitor in the cafeteria is rotating photos of past and present SVMHS employees who have served in the armed forces and employee family members who have or are serving.
All tributes will remain up through Veterans Day as we take a moment to give thanks and reflect on the true meaning of the long holiday weekend.