Shared Governance at SVMH
Shared governance at Salinas Valley Memorial Hospital is a leadership and decision-making model that promotes and supports professional autonomy. The model empowers staff to contribute to processes related to clinical practice and the professional practice environment. Shared governance is about teamwork and shared-decision making. It is about bedside staff working together with leadership to make decisions that influence nursing care and patient outcomes.
The primary focus of the shared governance councils and committees is to improve patient outcomes; ensure practice that is ethical, current, and evidence-based; and promote a culture that achieves excellence. Expected outcomes include improved patient outcomes, enhanced communication and workflow processes, support for professional development and empowerment, increased employee engagement and satisfaction, enhanced team decision-making, and timely response to clinical problems and workflows.
Click the image to enlarge.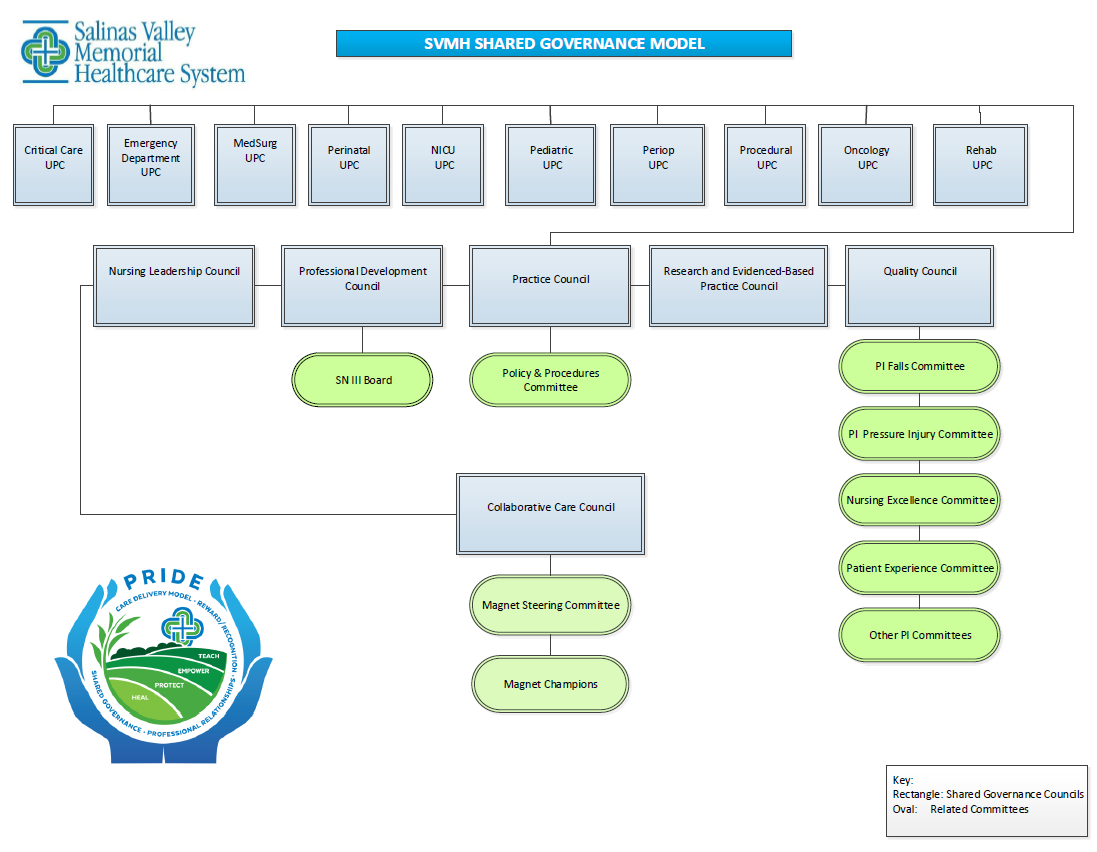 Council Structure
The shared governance structure at SVMH consists of Unit Practice Councils, the Collaborative Care Council, and Central Councils with various reporting committees.
Unit Practice Councils address issues that relate to the unique patient population and operations of a unit or department. These councils identify and resolve issues impacting the effective, efficient delivery of care and a healthy work environment through the identification and implementation of professional standards of care and evidence-based practice.
The Collaborative Care Council coordinates the efforts of all the shared governance councils by integrating and monitoring activities, and acting as a clearing house for unresolved issues, either by disseminating them to the appropriate council for action or mediating as appropriate.
The Central Councils include:

Practice Council oversees the development, implementation and evaluation of clinical nursing practice standards and guidelines in accordance with national, state, and community standards, regulatory requirements, evidence-based literature and practice, and established and evolving professional standards of practice.
Quality Council promotes and ensures the highest quality of care through monitoring and oversight and of quality indicators, patient outcomes, and nursing peer review. Council members act as quality consultants and educators sharing their expertise in data analysis and process improvement to further improve clinical outcomes.
Research and Evidence-Based Practice Council develops and maintains the infrastructure that supports and promotes nursing research, innovation, and the use of evidence-based practice. The council assists with the research process, fosters and supports investigative role development, and disseminates results to internal and external audiences.
Professional Development Council defines, implements, and evaluates programs and processes that support and enhance professional growth and development and the achievement of professional goals and accomplishments. The council develops and implements rewards and recognition processes, and identifies strategies that promote recruitment and retention of professional nurses.
Leadership Council provides leadership, coordination and support for patient care delivery by setting and communicating the strategic direction for nursing, including the development and monitoring of the nursing strategic plan. The council provides a forum for nursing leaders in all departments to communicate about common issues related to nursing practice, workflow, and the nursing professional practice environment.